Read poetry and articles by Ray, see photo albums & other items, Ray's links, go to

Ray's Place

00101300
Ray McNiece has earned a national reputation as a poet and performer for almost two decades through his solo theater pieces, his poetry and music shows, his captaining of 2 National Poetry Slam Championship teams, his "edutaining" children's shows and workshops, and his yearly country-wide tours of performance poems, stories and songs.
Ray is the author of six poetry books – Dis, The Bone-Orchard Conga, The Road that Carried Me Here, Song that Fathoms Home, and Wet Sand Raven Tracks –New Haiku, and Us? Talking Across America, two solo theatre works – Dis – Voices From a Shelter, Us? Talking Across America, two music/poetry collaborations – Mouth Music, A Rust bowl Hootenanny, and one collaborative theatre work – Homegirl meets Whiteboy -- with Shawn Jackson. He also co-edited the anthology of Contemporary Buddhist Poetry, America Zen. The Orlando Sentinel reporting on Ray's solo show at the Fringe Festival called him "a modern day descendant of Woody Guthrie. He has a way with words and a wry sense of humor." In a review of his second theatre work, Us? Talking Across America, the Star-Phoenix said, "His thoughtful writing combines with perfectly timed delivery to create a powerful wordscape that owes as much to jazz as drama." He was the voice of Woody Guthrie in WCPN/NPR's award winning radio documentary, Hard Travellin'.
Ray performing at the Poet's Hall of Fame, the Moscow Polytech, for the enthusiastic crowds.
Highlights of his recent tours include a keynote address shared with Robert Bly at the First Coast Writer's Conference, a featured reading at the opening of City Light's Italia in Florence with Lawrence Ferlinghetti, and a performance with his band Tongue in Groove at the Starwood Festival, opening for legendary drummer Babatunde Oluntunje. In the summer of 2001 he toured Russia with Yevgeny Yevtushenko where he appeared on Good Morning, Russia and performed at the Moscow Polytech, the Russian Poets' Hall of Fame where he was dubbed 'the American Mayakovski'.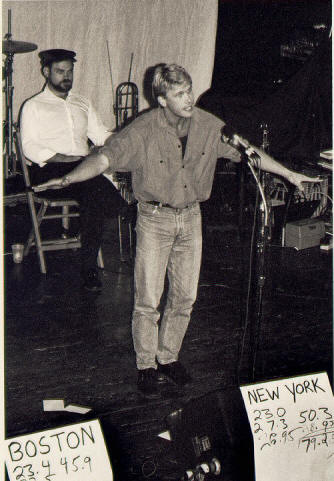 He has received numerous awards for his writing and performance, most recently the 2001 Hart Crane Award from KSU, a residency in the Cuyahoga Valley National Park, and a residency at the Jack Kerouac House in Orlando, Florida. He was the captain of two National Poetry Slam Championship teams ('92 Boston, '94 Cleveland) and won the Arkansas Grand Slam, the largest performance poetry prize ever awarded.
Ray is also an accomplished actor and has appeared in plays at Ensemble, Dobama, Cleveland Public and Cleveland Playhouse theatres. He was an original cast member of the improv comedy Flanigan's Wake. He performs in schools as Johnny Appleseed and Thomas Jefferson.

File downloads: event planning

[ back to top ]



---
Tasting What of the Sun We Can
At the end of summer the last
of the tall grass stems yellow and hollow.
Rafts of ironweed and goldenrod
cluster over the field, and we both
recite their names, assuring each other.
We pick bristleberries that absorbed
their fill of the sun's pulses
and smash them between roof and tongue,
tasting what of the sun we can.
We spit - ripe is a day sooner than rotten.

I snap a black, fallen branch open
and smell the inside's incense
and hold the cherrywood out to you.
You draw in, then exhale, nodding good,
agreeing to what is passing.
Poem above is an excerpt from one of Ray's books of poetry,
"The Road That Carried Me Here"
published by Bottom Dog Press
Ray McNiece, Copyright 1999.
For more, click on > BOOKS


Ray performing with his band, Tongue in Groove.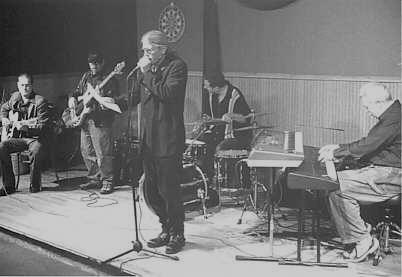 BIG NOTE: If you are an event planner, education planner, decision maker, will be promoting an event that features Ray, etc., PLEASE CLICK HERE TO GO TO "PLANNING" for useful hints, tips, suggestions, background info., bios, photos, etc.
Bring this versatile performer and dedicated educator to your audience this year. Peace and Poetry.
To book a performance, education program, schedule an interview, or to order books and compact discs please contact Ray directly at PAGE-to-STAGE PRODUCTIONS. Contact Ray
[ back to top ]