Links on this page
& Main Navigation below
SOLO THEATER

DIS: Voices from a Shelter

US? Talking Across
America
COLLABORATIONS
Conversations:
Homegirl & White Boy

Mouth Music: A Two-bit Poetry Opera

A Rust-bowl
Hootenanny

ROCK 'N ROLL
Tongue 'n Groove
MATERIALS
Event planning
Bio downloads

PROGRAMS & PERFORMANCES
Performances, Shows, Solo Theater Music

Read poetry and articles by Ray, see photo albums & other items, Ray's links, go to

Ray's Place

00101300
Ray McNiece's PAGE-to-STAGE PRODUCTIONS
Book a truly unique performance for your venue,
performed by the author and other professionals
with style, power, grace...
---
NOTE: Download a new and updated flyer on this performance at What's new, Ray?

This 80 minute picaresque tour of average Americans and their opinions starts in Times Square and ends on Hollywood Boulevard. Performed in front of a wall-size map of the country made from 50 used flags that were going to be burned, we hear from we, the people--a factory worker in Cleveland, a survivalist in the hills of West Virginia, a cow on a ramp in the Midwest, a truck driver, a broken-down bronco buster, a country and western singer in a Reno bowling alley, and a young hustler -- as they offer their questions and responses to the question, "What one question would you like to ask the American people?" Of US?
Amy Sparks of the Free Times writes, "McNiece smoothly blends fine writing with an angry political conscience and deft theatrical techniques to create a series of characters straight from the streets." In a review from the Orlando Fringe Festival the Sentinel called Ray "a folk troubadour descendant of Woody Guthrie. He has a way with words and a dry sense of humor." The Star-Phoenix said, "His thoughtful writing combines with perfectly timed delivery to create a powerful wordscape that owes as much to jazz as writing."
[ 80 minutes ]

FOR MORE INFORMATION on this, NEW BROCHURE on News PAGE TO DOWNLOAD
> FOR PRINTED VERSIONS. CONTACT ME > Contact Ray [ back to top ]
---
This 75 minute, one-act series of linked monologues, poems and songs is a visceral and poignant portrait of disrespected people --the homeless. A dozen characters covering a cross-section of the street population, including a Vietnam vet, a Native American, a de-institutionalized mental patient, and an elderly woman, present their thoughts and feeling with riveting insight. The monologues are composites of the stories and experiences told by the guests of the Boston Night Center, an all-night drop-in center near Boston's theatre district.
The video version of this show was produced by WGBH-Boston and aired on PBS nationally. In a review of DIS from the Edinburgh Fringe Festival, London's Stage and Television Today said, "The energy he has for each character is impressive and he never fails to surprise with the variety packed into the show." The Edinburgh Scotsman reported, "McNiece's characters are acutely observed, the speech patterns and mannerisms perfectly caught. In a review in dialogue, arts in the Midwest, John Stickney wrote, "McNiece lends these victims a face with a voice and words, not full of pity but with individual dignity."
[ 75 minutes ]

FOR MORE INFORMATION on this,
click here > Contact Ray [ back to top ]
---
This one hour deconstruction of racial and gender stereotypes, performed with Shawn D. Jackson, uses poetry, storytelling, drumming, and game-show satire to explore relationships. Based on interviews with other interracial couples and their own experiences across the country, the play details issues of race and identity and the challenges faced by lovers crossing cultural boundaries. A black and white Romeo and Juliet for the 90's. A seminar/question and answer follows each performance.
[ 60 minutes ]
FOR MORE INFORMATION on this,
click here > Contact Ray [ back to top ]
Mouth Music -- A Two-Bit Poetry Opera

This 90 minute performance in two acts features vocalist Ray McNiece and the band Tongue-in -Groove, along with guest musicians in a musical mélange of poetry and song. From Rusty Junkyard Rock and Roll to Hillbilly Hip-hop, from Acid Polka to Classical, come hear Laughing Sal's echo, a mongrel on the edge of the Flats bark at Steel Cleveland Sagging, Johnny McEldoo's dine and dash donnybrook, and Vedron Smelovic's dirge for Sarajavo as incarnated by the voice of Ray McNiece as he explores the diverse musical influences on his poetry. [ 90 minutes ]

FOR MORE INFORMATION on this,
click here > Contact Ray [ back to top ]

This two hour extravaganza in two acts celebrates the urban Appalachian experience in the Industrial cities on the North Coast. Through his trademark mix of stories, songs and poems, Ray explores the themes of work, family and spirituality from his 'hillbilly' roots. The second act of the show includes local folk musicians doing traditional and contemporary songs and ends with a Mountain dance call. [ 120 minutes ]

FOR MORE INFORMATION on this,
click here > Contact Ray [ back to top ]
---
Tongue - n - Groove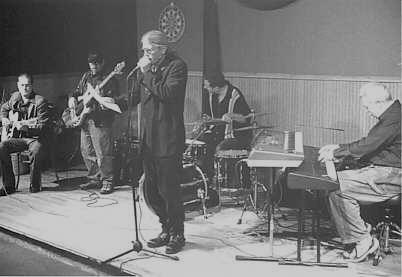 Ray and the boys in the band...
Ray leads Tongue n Groove at the Powerhouse...
FOR MORE INFORMATION on this,
click here > Contact Ray [ back to top ]
[ back to top ]