a variety of photos from then and now...
CLICK PHOTOS for FULL SIZE
from the play, The American Revolution, featuring Ray McNiece


In "The American Revolution", with Ray as Johnny Freeman, "...and who among us yells retreat so bravely?"
"They call me Freeman, baby, // I love to rock and sing // and if you let me play the lead // I'll beat the bloody king."
"...too damn scared to do what's right // Tommy was a Traitor" [ back to top ]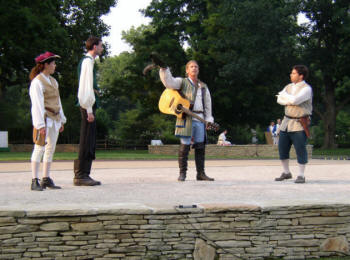 "My name is Freeman and I want to be your leader. Vote for me and everyone will have a job save those who hate work, for whom a non-job will be created to their liking."
"Let us remember him for what he left us -- this limb... this bloody limb."