Interactive Education Programs: Elementary School

After you see him you, too, will say,

Ray McNiece IS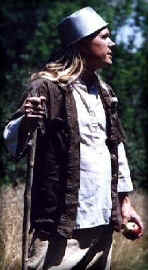 In addition to his exciting, interactive, K-12 Poetry Show he has toured for many years, Ray will continue to present two children's show this year. A number of dates are booked. Please scroll down for teacher and educator comments. In NE Ohio, Johnny Appleseed and Thomas Jefferson are offered through The Holden Arboretum.

In NE Ohio, contact Holden Arboretum to schedule performances, Education Department, 440-946-4400 or 440-256-1110, M-F 8:30AM to 12:30PM. Click on the Holden logo to go to their web site and/or email Holden Education at educ@holdenarb.org

To schedule performances outside of NE Ohio, contact Ray
This interactive experience recreates two individuals in botanical history who have been influential in developing our knowledge of the world of plants. Both programs have been very well received, garnering rave reviews not only from students, but educators and teachers.

What educators are saying about Ray's

"This program was beneficial to the students because it made history 'come alive.' Johnny stayed in character throughout. They will never forget their visit from Johnny Appleseed!" (Grade 3)
"I liked the way Johnny interacted with my students. The whole activity was valuable because the students got a look at history in a way they found fun. My children are still talking and laughing about Johnny. He really was terrific with the kids!" (Grade 5)
"Johnny Appleseed was excellent. He knew how to speak at the children's level. They enjoyed his accent and clothing." (K)
"We loved, loved, loved your presentation yesterday. You held the audience spell bound and from the many good answers I am sure much was gleaned from your program." (K)
"You'd swear it was really Johnny Appleseed in person!"
"We read a picture book about Johnny Appleseed. The book showed pictures that looked remarkably like the actor. I think the kids were very surprised." (Grade 4)
"Johnny was just perfect. I hope he'l1 return next year." (Grade 4)
"The children in both classes enjoyed their visit form Johnny Appleseed. The songs and the biographical information was well received. They were excited about the apple seeds, loved his outfit, especially the pot on his head. Having read a version of the Johnny Appleseed story, seeing Johnny really was a meaningful activity." (Grade 2)
[ back to top ]