Poetry Slams: Education, Entertainment, Development

Host and sponsor your own Poetry Slam....
and for very good reasons...

Universities, Colleges
High Schools, Secondary

Please see biographical information on Ray, but if there is one person that you'd want to see host and run a poetry slam, use this vehicle to bring out the very best in people, it would be a winner, a champion - someone who knows poetry, poetry slams, and poetry education, inside and out. That person would be Ray McNiece. See comments below from students, and scroll down for photos of Ray and some winning poetry slam teams on the national level.

---
What is a poetry slam? What are the rules? How's this work? Etc. Click below...
opens in a new browser window - The national organization, click below...
---

For colleges and universities...
some features, benefits, outcomes, comments...

Newspaper headline: POETRY COMES ALIVE AT ______
"I'm so glad Dr. ___________ set this program up.
I'll never forget this experience."

"I had a very limited view of poetry before. Opened my eyes."

"Blew me away. I never experienced poetry like this."

"It was so cool to write and learn my own poem and then actually perform it. Awesome."

"...this was really fun. I've told a lot of people about it, that they should come and try this, even my roomate."

"I never thought I'd be able to do that. Never. Get up and perform? Ray made the impossible seem pretty easy."

"I think it's easier to get up and express myself now
wherever I am."

"Best English class I ever had.
I can really use what I learned here."


Program meets core values, and nets a positive impact on students, school, department, and community

If you'd like to hear comments like these from your students and others, take one more step and contact Ray for the details.

photos below

(above) Ray McNiece wins on the Boston Slam Team, '91
(above) The Legendary Boston Championship Team of '92...
(poets, left to right) Richard Cambridge, Benson Wheeler, Ray McNiece - Captain - & Danny Solis
(above) Poets Danny Solis, Ray McNiece, and Ted Vaca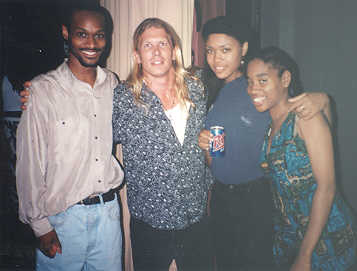 (above) Ray captains the '94 Cleveland Champs, the Cleveland Slam Team, poets extraordinaire... (left to right) Daniel Gray-Kontar, Ray McNiece, Tia Dianne Hodge, Kwanza Brewer