"In Russia a poet is more than a poet."
Y.Y.
As an American poet accustomed to meager readership and small audiences for public readings, I traveled to Russia with Yevgeny Yevtushenko in July of 2001 anticipating, if not the legendary soccer-stadium size crowds of the "thaw," at least a deeper and more widespread appreciation for poetry by everyday people. Though the flame of poetry has been somewhat dampened by the advent of consumer/pop culture, the average Russian still has a connection to poetry that can only be called soulful. The tour proved to be an arduous – the Russian infrastructure is slowly crumbling – but wondrous journey that revealed how pervasively poetry imbues the national character. After all, for nearly a century the poets were, in the face of the official social realist truth, speaking the simple human truths – the truth between the lines. For the people that truth was as sustaining as good brown bread. One can live by it. They have not forgotten that. The occasion of our tour was Yevtushenko's annual birthday performance at the Moscow Polytech and the opening of the Poet's House, a museum in his childhood home at the Siberian crossroads of Zima Junction. Our cast included a international line-up of poets, critics, and yevtushenkologists representing Poland, France, Nicaragua, the United States and the whole of Russia from St. Petersburg to Kamchatka. Over the course of two weeks I participated in a dozen readings, four tv/radio interviews and a panel discussion, "Poetry in the 21st Century." The one constant on the trip can be summed up by Gogol's quote from the last century, 'the two problems with Russia are the roads and the food." That being said, the hospitality and poetic intelligence of the people more than made up for any inconvenience.

To continue and read the full text of the article with many additional photos, click to go to Ray's Place...
Written by Ray McNiece, published first in Ohio Writer Magazine in edited form, 2001.
Also visit here...
• at Jack Kerouac's House •
• with Lawrence Ferlinghetti •
• with Yevgeny Yevtushenko •
• with Robert Bly •
The McNiece and Yevtushenko Tour
On the Road in Russia, by Ray McNiece


Ray and the legendary Yevtushenko at Bratsk Station.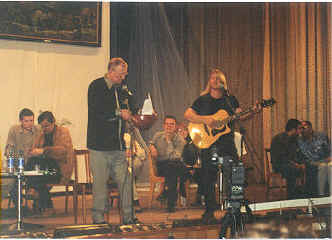 Siberia: Yevtushenko with his hard hat, Ray on guitar, both performing "The Workers' Song" ("I ain't got no work.."), a protest song on the LTV steel plant closing.